ROMERO'S RESIDENT EVIL
The History of What Could Have Been

Back in early 1998 / mid 1999, rumors began circulating that RESIDENT EVIL, a zombie based game, that has highly character-driven and influenced by the Romero Trilogy would be put into development as a film.
Almost from the start, Romero's name became attached to the film, but nothing was offical during pre-development of the film until word was announced that Romero was attached. Romero being the writer and director, that he is intended to adapt the film based as accurately as he could on the game as the first draft (dated Oct. 7, 1998 and co-written with Peter Grunwald). The attempt as you can tell from reading the script is true to the game in almost every form, but Constantin Films, the Producers on the film didn't take to the film and Romero was fired.
Romero went away to work on his first draft of DEAD RECKONING after being fired. Constantin Films hired Writer / Director Paul W. Anderson, who created a loosely based prequel to the game. Anderson's film met with decent reviews and spawned the current sequel, but backed out of directing the sequel allowing Alexander Witt to take the reigns, while Anderson focused on ALIEN VS. PREDATOR.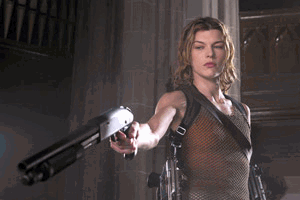 RESIDENT EVIL Factiods and Quotes (RESIDENT EVIL: GROUND ZERO or simply RESIDENT EVIL)
RESIDENT EVIL: APOCALPYSE Factoids and Quotes